Calories Burnt Walking, Running, Cycling and Swimming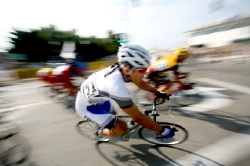 For many years, the market has been flooded with products promising to help you achieve more burnt calories throughout your daily routine.
However, you can do something in order to increase your number of burnt calories each day.
The fact is that the number one way to increase burnt calories is simply by moving more, according to several fitness and health experts.
Running, swimming, cycling and walking are all effective healthy calorie burning exercises
Many doctors and specialists agree that the best method to burning more calories or speeding up your metabolism is to just get up and moving more often. Studies show that the most effective activities to increase your amount of daily burnt calories are running, walking, cycling and swimming.
Many people are interested in the fitness-health connection involving walking, cycling, swimming and running. Simply put, they are by far the best forms of movement. Every healthy individual learns to walk and run at a very early age, practically without any instruction.
The same is not true for swimming or cycling, however, these four activities are the best ways to get fit, increase your burnt calories, and vastly improve your overall health and well-being.
Some people believe that both running and walking add up to the same number of burnt calories per mile. However, that is not so. The truth is that burnt calories come from continuous exercise. You burn about five calories for every litre of oxygen you take in, and running generally requires the consumption of a lot more oxygen than a brief stroll.
Calories Burnt Whilst Running
Running is one of the most effective exercises for burning calories. If you run at a modest pace of around 7 mph, you will burn close to eight hundred calories in an hour. However, if you run the same routine every day, your body will adjust to the intensity and may become less effective.
This plateau should be a signal to you that it is time to change up your fitness routine, especially if you are running to lose weight. Just a few simple changes to your routine can help to increase burnt calories to help you efficiently continue to lose weight and maintain fitness.
Here is an idea of the amount of burnt calories you can accumulate from an hour of running, depending on your size and pace:
At a pace of 10 mph a person weighing 130 lbs would burn around 944 calories, while someone twenty pounds heavier would burn more than 1120 calories
At a pace of 5 mph a person weighing 130 lbs would burn around 1060 calories, while someone twenty pounds heavier would burn over 1260 calories
Running cross country would burn about 530 calories for someone weighing 130 lbs, and more than 630 for someone who weighs 150 lbs
Running in general or in place burns around 470 – 560, depending on runner size
Running up stairs burns an average of 850 calories to more than 1050, depending on the runner.
Calories Burnt Whilst Walking
Weight is a factor in the number of burnt calories. For example, an overweight person may actually burn more calories than someone who weighs less. The following are all averages, based on weight and the speed of walking.
Based on weight and an average walking speed of 3 mph, you can expect burnt calories at the following rate:
130 to 140 pounds – 3.5 burnt calories per minute
160 to 170 pounds – 4.5 burnt calories per minute
190 to 200 pounds – 5.5 burnt calories per minute
Calories Burnt Whilst Cycling
You will find no better way to burn calories than cycling. Bike riding provides you with unparalleled pleasure as you cruise through the beautiful scenery on the weekends, or commute to and from work to burn a few extra calories during the week.
Based on weight and average cycling speed, you can expect burnt calories at the following rate:
130 to 150 pounds – leisure cycling at 10 mph – 230 to 280 burnt calories
130 to 150 pounds – racing at 20 mph – 940 to 1120 burnt calories
130 to 150 pounds – stationary with moderate effort – 400 to 490 burnt calories
Calories Burnt Whilst Swimming
Swimming is exercise that is as enjoyable as it is effective, not to mention incredibly relaxing. Swimming is a sport that can be done indoors or out, and swimming almost burns as many calories as running does.
Fast, enthusiastic freestyle swimming for an hour can burn 590 to over 700 calories for someone weighing 130 to 150 lbs
The backstroke burns 470 to 560 per hour
The butterfly stroke can burn up to 770 calories
Simply treading water for an hour will burn close to 300 calories